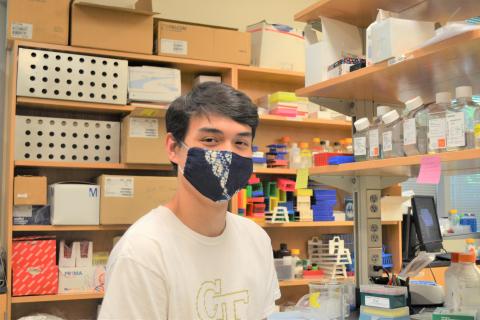 Download image
Nov 03, 2021 — Georgia Institute of Technology
By Frida Carrera
As one of the nation's leading research institutions, Georgia Tech has always emphasized the pursuit of progress and service in its research endeavors. With such a strong focus on research, it is only right that many students at Tech have seized their opportunities to make an impact on the real world and solve complex problems. Taking initiative, asking the right questions, and being passionate about making a positive impact are innate characteristics that make a researcher, and Georgia Tech has in no way come short of giving rise to many exemplary researchers. The following undergraduate student researchers are serving as catalysts for innovation and development in their respective fields and are representative of Georgia Tech's mission in developing leadership and improving the human condition. 
Prahathishree (Premi) Mohanavelu is a 5th-year Computer Science major with a Pre-Health concentration. She conducts research with Dr. Cassie Mitchell in Biomedical Engineering on informatics-based literature mapping to personalize therapy for Chronic Myeloid Leukemia. 
"I was really looking for a way to apply the concepts I was learning in my computer science classes to the field of healthcare, and I felt this position was the perfect fit for that." 
One of her main reasons for conducting this research was her interest in medical innovation. Premi believes the future of medicine will rely on preventative care and says her research position has also helped her with oral presentation and communication skills. Premi also serves as president of the Undergraduate Research Ambassadors and utilizes her research role and experience to teach prospective research students the ins and outs of obtaining research knowledge.
Yiyang (Diana) Wang is a 4th-year Computer Science major conducting research with Dr. Jennifer Kim on contact tracing visualization tool design and implementation. Her research is applicable to easily contracted illnesses including COVID-19. Yiyang believes her research will help people understand the importance of contact tracing and how data collection, for contact tracing purposes, could be beneficial. Yiyang's goal is to become a software engineer and wants to focus on improving technology for the benefit of the user. Yiyang thanks the Undergraduate Research Opportunities Program (UROP) for obtaining her position as it was a major resource for her in finding and landing her current research position. 
Milan Riddick is currently a 5th-year Biomedical Engineering major with a minor in Health, Medicine, and Society conducting research with Dr. Jennifer Singh in the area of History, Technology, and Society on the mistrust of the COVID-19 vaccine among black citizens of Georgia. Milan has been the primary lead in her own research and has combined her passions for medical sociology and research to do what she loves. From proposing, securing funding, recruiting, and interviewing, Milan had a vision from the start and hopes to understand and improve the trust disparity between black Georgia citizens and the COVID-19 vaccine. Milan hopes her current research will aid with the trust between people and medicine as well as securing her path to graduate school.
William York is a 4th-year Biomedical Engineering major with a concentration in Pre-Health. He is currently conducting research with Dr. Edward Botchwey on using biomaterials to immunomodulate muscular defects for tissue regeneration. He believes his research is important because it will aid in the initiative in potentially replacing stem cells with exosomes in stem cell research while retaining the same regenerative effects and creating fewer risks. William wasn't sure about research when he first arrived at Tech, but after learning the opportunities and resources UROP had for undergraduate students, he quickly became involved. William is now currently in the Research Option program and is also an Undergraduate Research Ambassador providing guidance to students also interested in research. 
Hannah Shin is a 3rd-year Biology major with a concentration in Physiology and is conducting research with Dr. Colin Harrison on measuring the organization of biological knowledge around experimental design utilizing a card sorting task. Hannah's research uses its results to identify the weak areas in biology programs and make the necessary revisions to instruct students more effectively. Hannah believes her research will also aid her in future endeavors. 
 "My career goal is medical school and I believe my research will advance both my academic and career goals because it exposes me to real-world applications of data analysis and allows me to dive into the differences in knowledge organization among people of different backgrounds." 
 Hannah is also a participant in the Research Option program and is the executive vice president of the Undergraduate Research Ambassadors. She uses her research and personal experience to help students gain confidence in pursuing research they are passionate about. 
Read more about Undergraduate Research opportunities by going to http://urop.gatech.edu.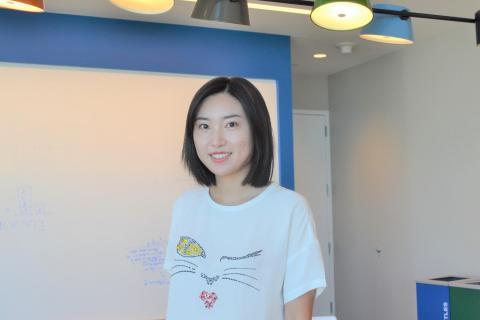 Download image